Our Mission
'To provide an electronic meeting place for Serving and ex-Naval personnel who wish to join the Naval Association of Australia'
 In response to requests from serving members and ex-Naval personnel who live at a distance from existing Sub Sections, a small group of members decided that it was time that an 'electronic' Sub Section be started to permit easy access to membership of the NAA by those people who cannot usually attend meetings, but who wish to have the benefit of membership of the Naval Association of Australia.    Since its formation many people have joined eFleet from Navy and redundant Sub-Sections.  We encourage all members to participate in the activities of the NAA and hope that all will eventually belong to a geographically-convenient Sub-Section.

eFleet Sub Section Profile
Foreword by former Chief of Navy, Vice Admiral Ray Griggs, AO CSC  RAN – now Vice Chief of the Defence Force..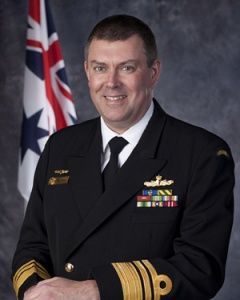 It gave me great pleasure to be the inaugural Patron of the eFleet Sub Section of the Naval Association of Australia. The Naval Association of Australia is the leading Naval Ex-Service Organisation.   For nearly a century, it has provided social, welfare and pensions support for Navy people. I am told it was formally started in 1920 by a couple of sailors over a beer in Young and Jackson's pub in Melbourne but its ties go back even earlier, to the NSW Naval Division during the Boer War. The Association has grown to the point where it is recognised and respected as a leading contributor in the provision of advice to Government and Navy on welfare and pensions support.  Its membership includes all ranks from Ordinary Seaman to Admiral. This broad membership base helps the Association deliver answers to assist Navy and the Government over a wide range of issues. It is, in many ways, a continuance of the 'divisional' system after our people leave full time service. When I first heard of the formation of the eFleet Sub Section I thought that the concept was a great idea and sure to be a winner. In the past there has sometimes been a gap with regard to services, efficient delivery of information and access to help for serving and ex-Naval people who are unable to join with regional groups. The e-Fleet Sub Section fills this gap by using online facilities to ensure our current and former Navy people can access the Association. It will do the bulk of its business electronically, enabling participation in the Naval Association of Australia irrespective of a members' remoteness geographically, work or other time commitments or simply the fact of serving at sea.    Developing this web-based Sub Section keeps the Association up with changing technology and community expectations, without giving up the fundamental assistance and advisory role that it has always had. The website is already up, at http://efleetaustralia.org, and you can join the eFleet Sub Section at  https://navalassoc.org.au/wp/join I look forward to participating as the Patron of the eFleet Sub Section and congratulate the Naval Association of Australia and the Formation Committee on this significant innovation. This webpage is the basis for communications between eFleet Sub Section members Details about the Naval Association and its Aims and Objects can be found on the Naval Association of Australia website at http://navalassoc.org.au

Join us in Facebook The 'Chat / Main Notice Board' is at http://efleetaustralia.proboards.com/
The office holders of the eFleet Sub Section are:-
President: Les Dwyer;
Vice Presidents: Pat McCabe, OAM and Ian McClure.;
Secretary and Treasurer/ Membership Registrar: James O'Connor.
Committee: Internet Forum Supervisor – Ian McClure, Les Dwyer; 
State Section Delegates: Les Dwyer and Jim O'Connor;
State Section Conference Delegates: Les Dwyer and Jim O'Connor;
Welfare and Pensions: Les Dwyer, Advocate / Welfare; & Lynda Dwyer – Welfare;
Webmaster: Les Dwyer                                   
Honorary Member: VADM Ray Griggs, AO CSC, RAN – –  Inaugural Patron of eFleet Sub Section.
Join via the NAA 'join' form on the NAA website at  https://navalassoc.org.au/wp/join 
Join us in Facebook